screenshots of website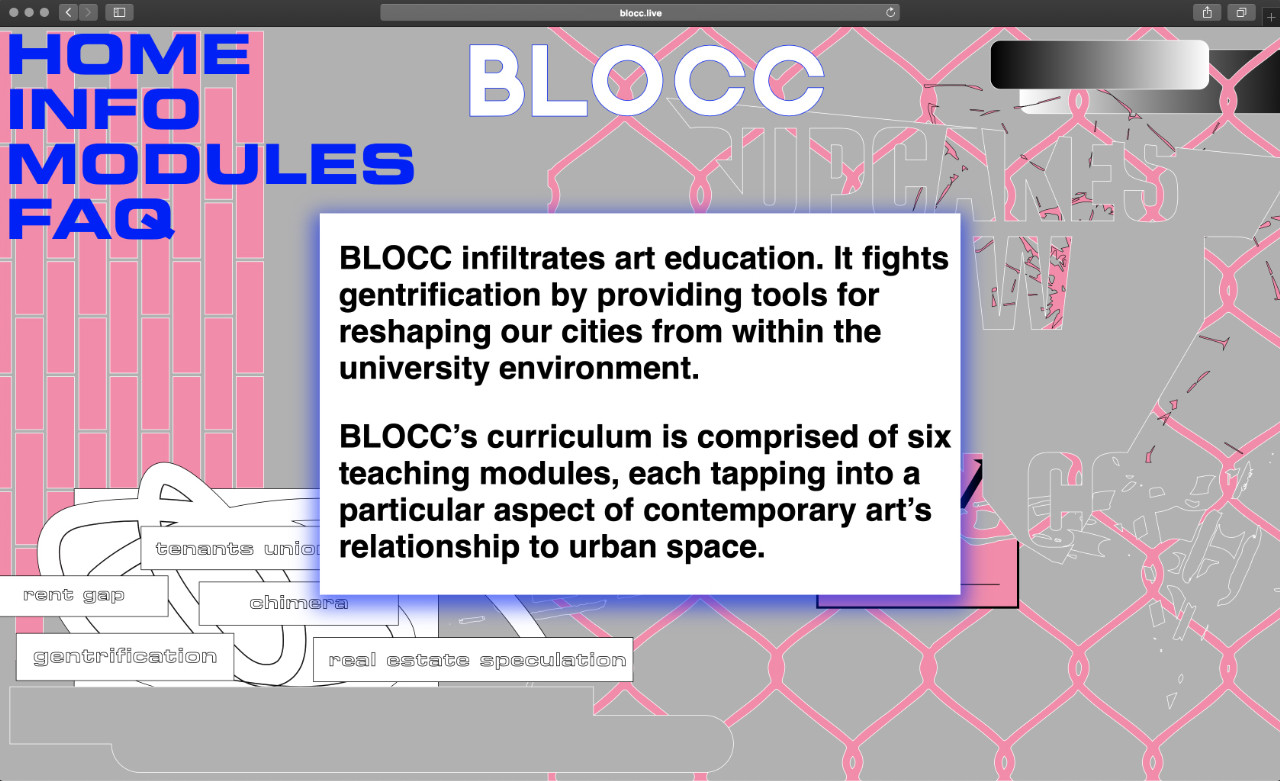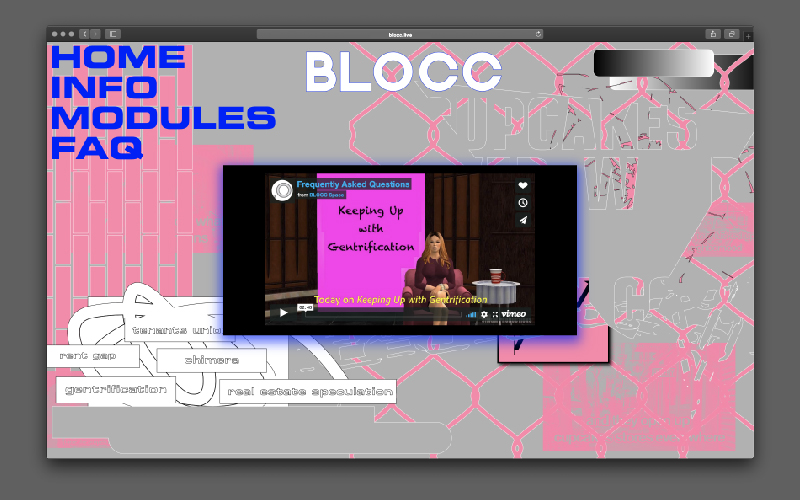 http://www.blocc.live
BLOCC is a system of learning that tackles the relationship between contemporary art and gentrification through an initial curriculum that aligns local struggles with planetary-scale infrastructural analysis.
The system reflects an entirely new way of teaching. The template can be adapted to any setting or educational environment, and remains open ended as it builds. As BLOCC teaches and learns from collective experience, history and theoretical knowledge, its form crystalizes differently in different cities. The idea is to fight gentrification through education, one generation at a time.
Through generic infrastructures, rationalized public spaces and homogenized public spheres, late capitalism produces a global monoculture which undermines the city as a social form. How, then, to confront a single planetary development alongside its many local manifestations? How, in other words, to forge international alliances when our legitimacy, and working knowledge stem from particular neighborhood materialities? By way of continuous erasure and dissolution of its boundaries into life, the field we know today as contemporary art holds a strong enmity to determining its own conventions and rules of inclusion. Yet, how to survive complicity in a moment when developers, city planners, and nonprofits are instrumentalizing artists who, willingly or not, participate in the violent process of displacement? Or does contemporary art have the capacity to catalyze, exploit, amplify, or capitalize on the phenomenon of gentrification?
Building Leverage Over Creative Capitalism (BLOCC) derives from 'block': a component of building material, a neighborhood or partition within a city, or a deliberate obstruction of an opponent's intentions. BLOCC is a system of learning that seeks to tackle the relationship between contemporary art and the current global phenomenon of gentrification. Its curriculum is comprised of six teaching modules, each tapping into a particular aspect of contemporary art's relationship to urban space.
BLOCC infiltrates art education and fights gentrification by providing tools for reshaping our cities from within the university environment.
In April 2019, BLOCC launched its website. The online platform gathers research material and educational tools from each of its modules.
BLOCC consists of Johanna Bruckner, Crystal Campbell, Luiza Crosman, Alexandros Kyriakatos, Alexis Mitchell, Bahar Noorizadeh. Its members met as fellows of the Sommerakademie Paul Klee (2017–18) with artistic director Tirdad Zolghadr.
Contact blocc.space@gmail.com for further inquiries and to invite BLOCC to your institution.